4 Best Floor Mats For F150 in 2023
If you're in a hurry and can't read the whole guide, I would recommend Husky X-Act Contour as the best floor mats for F150.
There are many factors that can cause damage to your truck's interior, such as road dirt, dust, mud, etc. F150 has always been one of the best vehicles for people who love adventure, traveling, and exploring new places. However, it is very important to keep the truck clean to avoid any kind of damage. It is essential to maintain the truck floor mats to make sure that the car stays in good condition. The best F150 floor mats protect your truck's interior from getting dirty and stains and keep the floor dry and clean.
Durable floor mats for F150 offer protection to the flooring and make the vehicle more comfortable to drive. Best all-weather floor mats for F150 not only offer protection to the Ford truck interior, but they are also durable and easy to clean. The ideal floor mats for F150 have a slip-resistant surface, soft padding for added comfort, and are easy to install.
So, after researching for the most durable yet comfortable floor mats for F150 on several forums, I have come up with the best floor mats for Ford F150 truck that are worth spending, durable and rugged, easy to install, and can maintain the value of your truck. So, let's hop in.
Bonus Read: Best F150 Seat Covers
Best F150 Floor Mats and Liners Reviews and Comparison
Here are the reviews of the best all-weather floor mats for F150.
1. Husky X-Act Contour Floor Mats – Best Overall Floor Mats for F150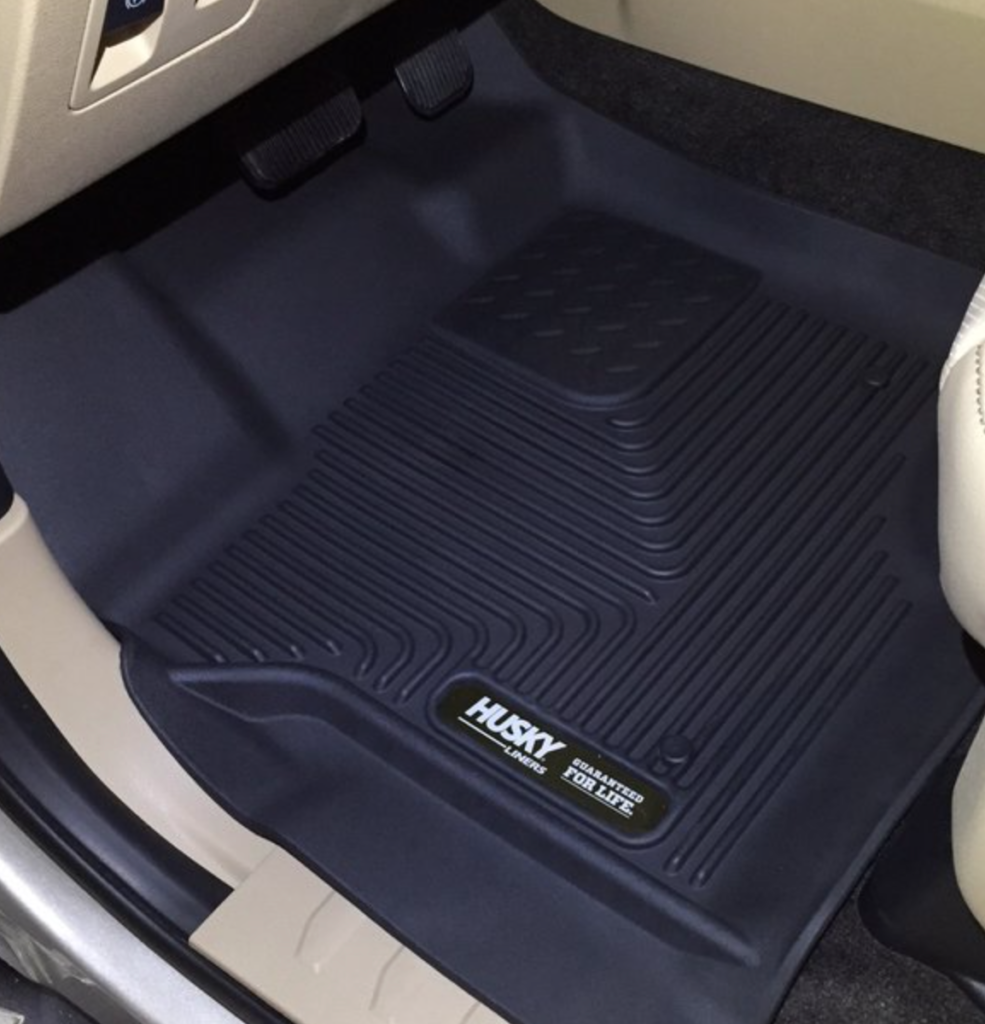 The first product on my list of the best F150 floor mats and liners is Husky floor mats. These are built to last, are easy to clean, and don't slide around. Their size is 30 1/2″ from front to back and their width is 23″. Plus, you have to order a set of Husky floor mats for front and back seats separately.
Here is what a real user says about the Husky floor mats for F150:
"Husky xact fit. Have had mine for 3 years, they fit really well, hold snow and water and fold easily when you want to dump them."
One user, who owns both Husky and Weathertech floor mats, prefers to go with the Husky as they offer almost the same quality, fit and comfort at a half price. Here is what the user says:
"Took the Husky liners from my '18 to my '21 because I liked them so much. Soft feel, great coverage. I've had Weathertech in the past and prefer Husky."
Here is what my friend says who told me about his experience with the Husky floor mats he just installed in his 2018 Ford truck:
"I bought husky xact contour mats for my 18, and I'm very happy. Good coverage and the mats are durable yet have a soft feel, not hard plastic."
Now let's talk about some great features of Husky Xact Contour floor mats.
Husky Xact floor mats are not like the typical hard plastic ones. These Husky floor mats are made of a special rubber material called DuraGrip that is soft, fits well by easily conforming to the round edges of the truck floor, and does not warp over time. It also gives a soft feel to your feet if you want to enjoy driving barefoot. There is a little give to the rubber mat making them comfortable for your resting left foot. There is a little give to the Husky rubber mats making them comfortable for your resting left foot.
Also, that rubberized aspect is most likely to be more durable and fit without the shrink that the harder plastics seem to be most apparent after a while.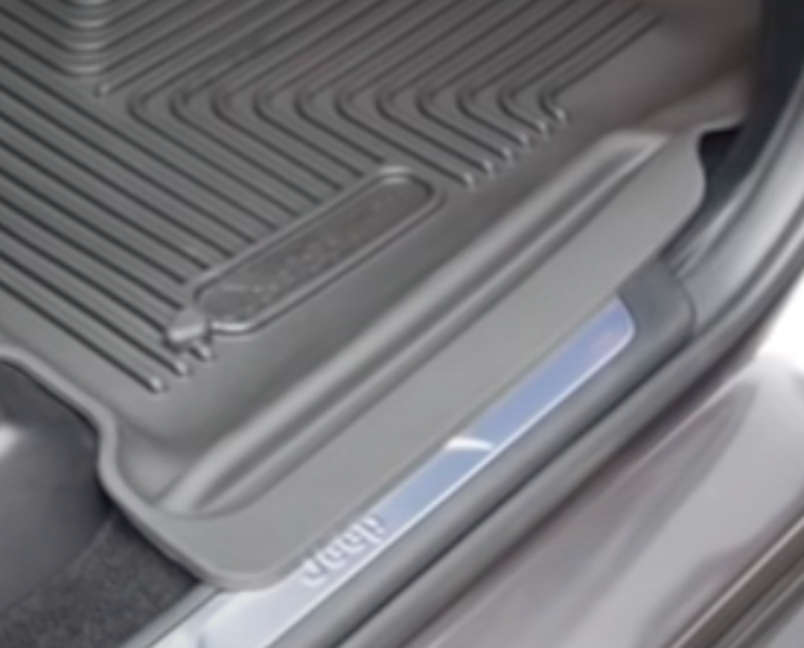 Husky Xact floor mat has raised ridges that sit on the door sill, due to which they keep most mud, sand, and melted snow off of your shoes when driving. Also, Husky Xact floor mats are pretty easier to clean with a soft brush.
In the picture above, you can see there are two mounting points on the driver side of floor mat that lock the mat into the place and prevent it from sliding.
The only downside of Husky Xact floor mats is that they don't exactly fit on the floor of F150 trucks with vinyl flooring. The floor mat retention posts in the vinyl floor models of the truck are not in the same location as the posts in models with carpeting. However, users are still happy with their grip on the vinyl flooring. They just slide a bit.
Furthermore, some people have complained that the rear mats of Husky are a bit sloppy and don't exactly fit.
2. MAXLINER Custom Fit – Best Value Floor Mat for F150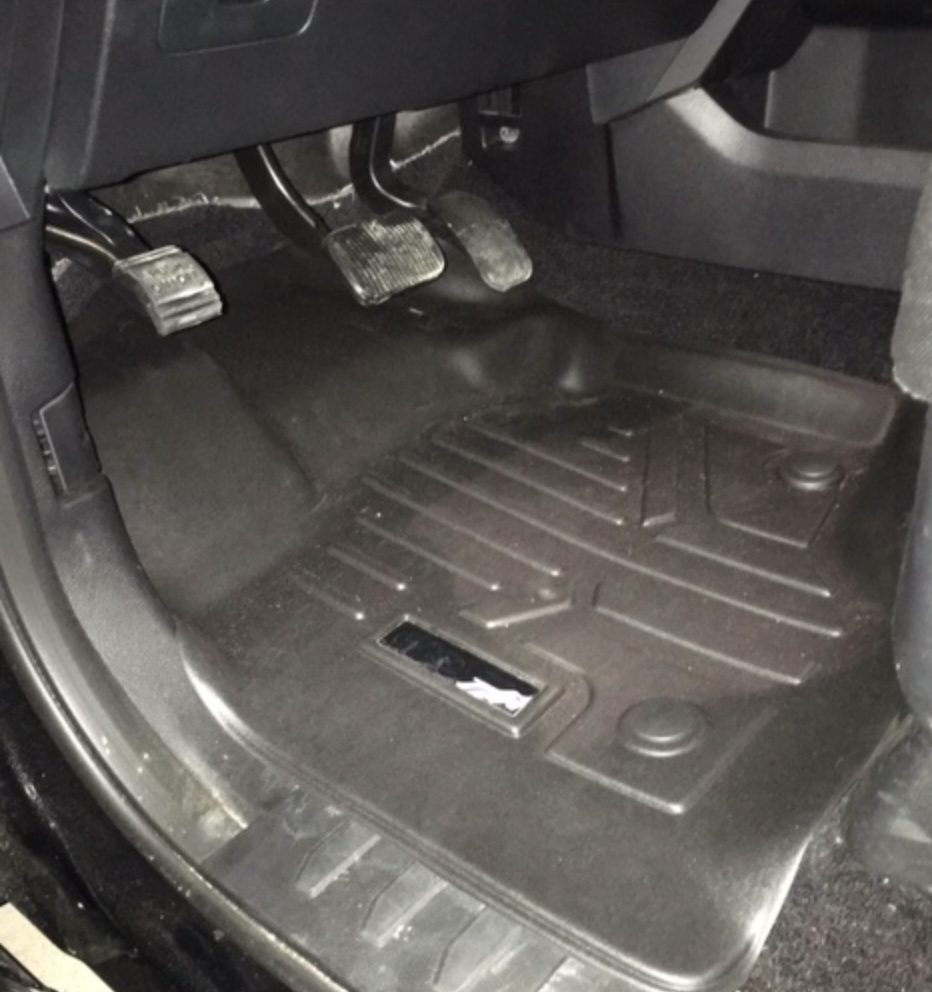 The second best option for the most durable F150 floor mats is the Maxliner floor mats. Maxliner floor mats are the best bang for your buck if you have Ford F-150 SuperCrew Cab (2015-2022) and don't want to spend a high amount on the Husky floor mats.
In one package of $125, you can get a full set of 2 front mats and 1 full back floor mat. Maxliner floor mats are less-mentioned as they don't have an online store. They are sold on Amazon, eBay, etc. Several people have tried the budget F150 floor mats and are quite happy with their quality if we consider the price at which they are being sold.
Here is what a user says about the Maxliner Floor mats:
"Super nice floor mats. They cover much more than the more popular brands. The rear mat goes door seal to door seal. And the front covers almost every inch of the carpet. More flexible so they don't spill when trying to remove them from the truck to clean. Best bang for your buck."
As far as the packaging is concerned, Maxliner floor mats come as folded due to which the larger rear piece has some slightly wavey bent edges. You may have to use a hairdryer or heat gun to warm the liners to get them to fit and lay down.
I asked one user about the durability of Maxliner floor mats. Here is what she said:
"Had mine for almost 2 years so far. With a rinse off and a wipe down they look just like new every time."
This is how Maxliner floor mat for F150 looks after one year of use.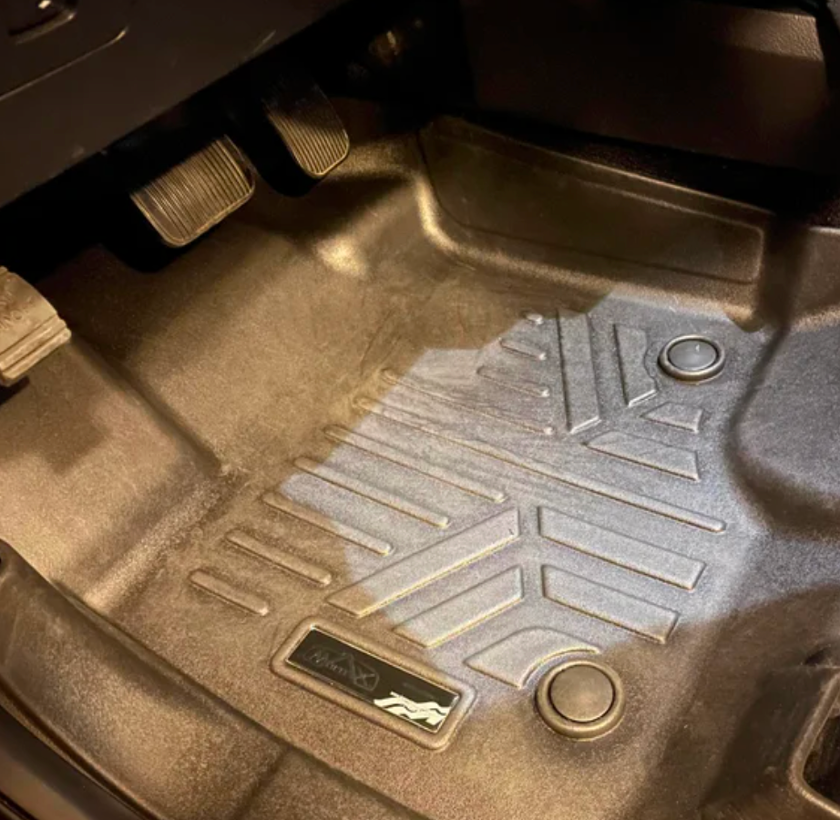 As far as the fit of the Maxliner floor mat is concerned, the tail of the mat that goes along the door takes some months to flatten out. It is a bit lifted out in the start. One user left some water bottles on those spots for some time. This trick worked out for him. Moreover, Maxliner floor mats fit perfectly inF150 back seat under the underseat storage portion.
Now talking about the grip of Maxliner floor mats, it isn't as good as you would assume after hearing the reviews about the grip of Husky Xact floor mats. If you have a dog in your truck, these floor mats could slip too much.
If I talk about the quality of Maxliner floor mats, it is top-notch. The material is a good quality semi-rigid polymer that holds its shape well. Their quality is comparable to the big brands of floor mats. However, the material of the Maxliner floor mat is not like the soft and pliable rubber of the Husky Xact floor mat. The Maxliner floor mat feels like a plastic floor under your feet.
3. 3D MaxPider – Best Stylish Floor Mat for F150
If you want floor mats for your F150 that have a cool look, then you need to get this 3D MaxPider Floor Mat. 3D MaxPider floor mats add a more luxurious look to the interior than rubber mats. Many people like them as the people don't get hung up in any deep grooves like other floor mats, plus it does provide quite a bit of grip. 3D MaxPider offers superior styling and durable material that will last for a long time.
3D Maxpider floor mats have a soft rubber feel rather than a hard plastic. They are called "MAXpider" because the underside of the F150 floor mat is like a very grippy texture that grabs onto the carpet of your truck and looks like a spider. It's also a softer underside. So you will not hear any possible plastic rattling noise when it smacks against other plastic.
The feel and texture of the Kagu rubber of the 3D MaxPider floor mat is totally unique and attractive. Not slick, but won't catch your foot or have you sliding the mat around. The Kagy rubber gives off a more carpet-like feel. Also, it cleans up easily. You just need to vacuum and wet wipe them and they look as good as new. Also, 3D Maxpider floor mat is suitable for colder areas as they don't leave scratches or salt stains when they are cleaned.
Here is what a user says about the texture of 3D Maxpider Floor Mat for F150:
"The texture is more of a rubberized coating if I had to describe it. Overall they fit perfectly, cover all the carpet, and don't slide around due to the bottom texture."
Talking about the downsides of 3D Maxpider floor mats, they are not as rugged as the floor mats from other top brands. You can use these floor mats for only general protection as they are not quite sturdy like other floor mats. That is, 3D MaxPider floor mats are suitable to hold dirt. But, when it comes to thick mud, they're not so rugged to bear it. Also, the passenger side fitment is a bit loose. There is a significant seam along the door step that doesn't lay down flush.
4. LASFIT Floor Mats Fit for 2015-2022 Ford F-150 SuperCrew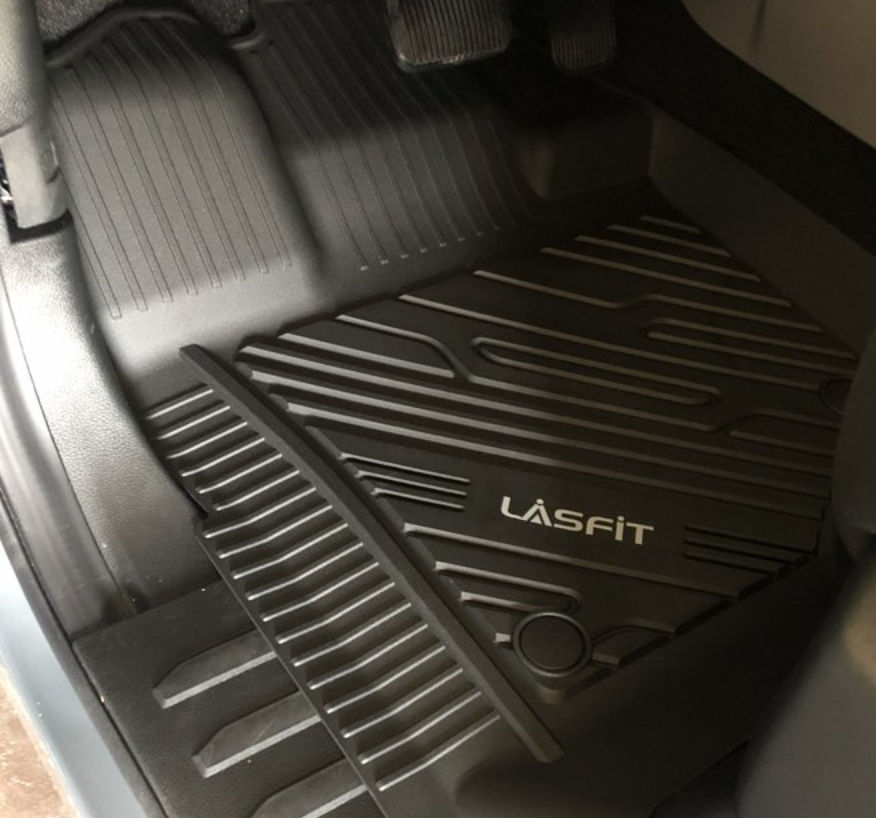 If you're looking for the most inexpensive floor mats for your F150 Supercrew truck, LASFIT FLOOR MATS is the only name you need to know. These mats will fit all of the F150 SuperCrew models without underseat storage box. The front mat of LASFIT fits perfectly, but the rear mat will not fit with the locking under the seat storage unless you cut the mat by about 2-3″ to fit.
When you will buy Lasfit floor mat, you will be amazed at its quality considering the price at which it is being sold. Users are pretty much happy with the quality of the material. It is not like a hard plastic Weathertech floor mat. It is a softer moldable rubber that firmly grips the flooring of the truck. Moreover, it lays down perfectly flat when you place it over the truck floor.
As far as the protection from dirt is concerned, Lasfit floor mats are designed with too many grooves for dirt to get into. Here is what a user says about LASFIT floor mats.
"I live in the desert so the snow isn't really an issue for me, I'm mostly worried about dirt and sand. Lasfit floor mats do a great job at stopping both the fine dirt and gritty sand.
The only downside of Lasfit floor mats is that they are not dished enough to hold water in rather, due to which they let the water run off the sides. Another downside is some people don't like the aggressive groove design on the rear LASFIT mats.
Floor Mats For F150 FAQs
What are the most important factors to consider when buying a Ford floor mat?
The most important factor to consider when buying a Ford floor mat is whether the floor mats can be used in all four seasons. The most common material used for floor mats is rubber. Rubber floor mats are durable and can resist wear and tear for a long time.
Why is it important to choose the right floor mat for your Ford F150?
It is important to choose the right floor mat for your Ford F150 because you will be spending lots of time on the road and your car's interior is going to be exposed to dirt, moisture, dust, and other road debris. Your car's carpet is one of the most vulnerable parts of your vehicle's interior so it needs to be protected from these elements.
A good floor mat will protect your car's carpet from all of the above-mentioned road debris, and will also provide traction on wet surfaces. It will also keep the interior of your car cleaner and more sanitary.
What are the differences between a floor mat and a carpet?
Floor mats are designed to protect your flooring and provide traction. They are made out of rubber, rubberized fabric or vinyl. Carpets are usually made of synthetic fibers and come in different styles, colors and textures.
Carpets can be used for both indoor and outdoor purposes. Carpets are usually less expensive than floor mats. 
How Much Was This Content Helpful?