H7 Headlight Bulb Pros and Cons (Some Important Facts!)
H7 is a low-beam light bulb that is ideal for daily driving. H7 light bulb directs a light beam to a shorter and narrower distance so that it does not blind the oncoming driver. H7 headlight bulb is a single filament bulb. Filaments are small wires that conduct electricity, and when they get hot, they produce bright light.
The base of an H7 bulb is PX26d which has two prongs unlike an H1 halogen light bulb, which is a single pronged plug. The number of prongs of a light bulb makes it interchangeable. A probe of a light bulb is a metallic element that fits into the socket of the headlight assembly. That's why all types of light bulbs i.e. H1, H3, H4, and H7 are non-interchangeable as each type of light bulb has a unique base to fit in the socket.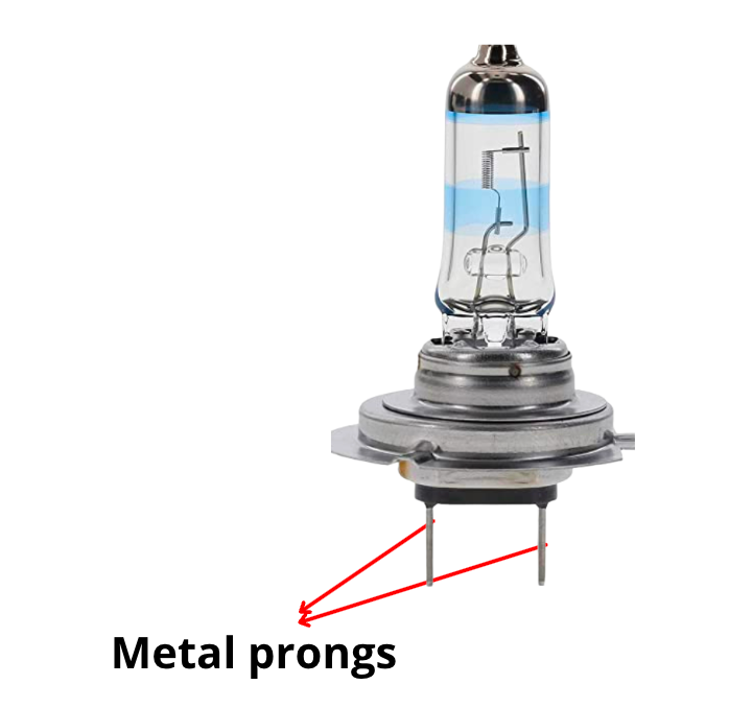 Does H7 Light Bulb Fit in Any Car?
H7 bulbs fit in any H7 housings. The fitting of the H7 bulb will depend on the connector of your vehicle's headlight housing. So, if your car has an H7 bulb housing, it will easily fit into its socket. However, some cars use 9007 bulb housings that are designed for 9007 bulbs. The sockets of 9007 light bulb housings are different from the sockets of H7 light bulb housings. H7 and 9007 are totally different bulbs with a different base that fits into the different sockets. H7 has a PX26d base while the 9007 bulb has a PX29t base, having three connections. So if your vehicle has 9007 headlight housing, the H7 bulb will not fit into its socket.
I would advise you to check your owner's manual to verify which type of light bulb your car is using. If it doesn't mention the H7 bulb anywhere else, it means the H7 light bulb will not fit in your car. For instance, I checked the owner's manual of the 2008 BMW 335i. It fits H8 light instead of H7.
Some famous car models that use H7 bulbs are:
2004 Audi a8
2008 Mazda 3
Genesis Coupe 2013
2008 Passat
Hyundai Sonata (non-hybrid)
BMW E90 330i
Another important I thought I should highlight in this guide about H7 light bulbs. On several forums, many people complain that their vehicle uses H7 light bulbs but aftermarket H7 light bulbs do not fit in the stock wire harness/plug of the headlight assembly.
The H7 halogen bulb is just the glass and metal part. The plastic and copper part (two prongs) at the bottom of the H7 bulb is just the H7 socket. If your aftermarket H7 halogen does not have the socket, you need to pull off the socket attached to the back of the stock H7 bulb and stick it on the new (aftermarket) H7 bulb.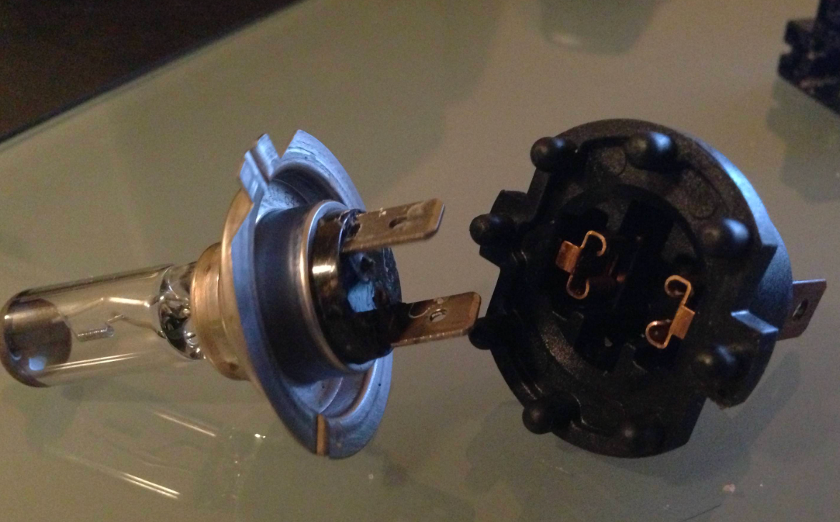 Another important point I would like to highlight is that H7 LED light bulbs do not fit in any car like H7 halogen light bulbs. Some vehicles need an extra adapter to fit aftermarket H7 led light bulbs. You can check this guide on H7 led bulb adapters to understand this concept. On Amazon, you can find H7 led bulb adaptors to fit aftermarket H7 led bulbs in your vehicle.
Here are the following cars for which you might have to buy an adapter to fit H7 LED light bulb:
Kia Sorento
Kia Optima
Hyundai Kona
Hyundai Genesis Coupe
Hyundai Veloster
Is H7 Bulb Halogen or LED?
H7 light bulbs are sold as both LED and halogen lights. Some cars have H7 halogen lights, while some cars have H7 LED lights. For instance, in BMW 335i, LED light bulbs are installed while in BME 330i, halogen bulbs are installed.
I would not recommend you use LED bulbs in cars that have stock LED light bulbs. The reason is that the reflectors of a headlight housing are designed for the type of light bulb to reflect the beam in a well-focused manner.
If the LED light bulb is installed in the halogen housing, the light beam will not be focused correctly, due to which it will cause glare. In my guide on h1 bulbs, I have explained this concept in detail.
Is H7 Bulb the Same as 9006?
Both H7 and 9006 are different light bulbs. 9006 bulb is also called HB4. Both 9006 and H7 halogen bulbs have a single filament but have different bases. 9006 light bulb has P22d (90°) base while the H7 bulb has a PX26D base. Due to different bases, the H7 bulb will not fit into the housing designed for the 9006 bulb.
Advantages Of H7 Headlight Bulb
Here are the advantages of the H7 headlight bulb.
Does not blind oncoming drivers if correctly installed
Suitable for daily driving and a night use
Easy installation
Saves you money
H7 Headlights Are Suitable For Daily Driving and Night Use
H7 headlights give off 1500 lumens of a low-beam at 12 V and 55 wattage. H7 headlights are very flexible and they can easily be adapted to fit your car's headlight housing. H7 headlights are designed for daily driving in the city. They are a great choice for those who want the best light output and reliability.
H7 Headlights Does not Blind Oncoming Drivers If Correctly Installed
If the filament of the H7 light bulb is placed properly in the center of the headlight housing, it can produce a focused beam of light that is directed by the reflectors in the vehicle's headlight housing.
The low beam in H7 light means that it is directed downward at a slight angle from the axis of the H7 light bulb filament. Due to this, the light beam from the H7 bulb does not go too far from its source. In this way, the H7 light will create sufficient visibility without blinding oncoming drivers. 
H7 Headlight Bulbs Save You Money
Since the H7 headlight bulb has only one filament, it takes fewer resources to make an H7 light bulb. Due to this, H7 light bulbs are affordable. A pair of high-quality H7 halogen light bulbs only costs around 30 to 40 dollars.
H7 Headlight Bulbs Facilitate Easy Installation
 Replacing and installing H7 headlight bulbs is quite easy. All you need to do is to follow the instructions in the owner's manual of the vehicle to locate the position of the H7 light bulb.
You don't need any tool to replace and install the H7 light bulb. Just make sure that you have worn the gloves and eye protection while removing the cover below the headlight assembly to install the H7 light bulb.
Disadvantages of H7 Headlight Bulb
Here are the disadvantages of the H7 headlight bulb.
Shorter and Narrower Beam
Shorter lifespan
Heating issue for H7 halogen bulbs
Can't throw enough brightness
H7 headlight bulbs have a low beam, which means that the light beam is projected downwards to a certain angle. This does fully illuminate any object lying in front of the vehicle's headlights due to a slight downward projection of the light beam from the H7 light bulb.
As a result, the light beam from the H7 bulb cannot be projected far from the source, due to which the object far from the vehicle doesn't illuminate. You can understand the concept of the low beam through the below image.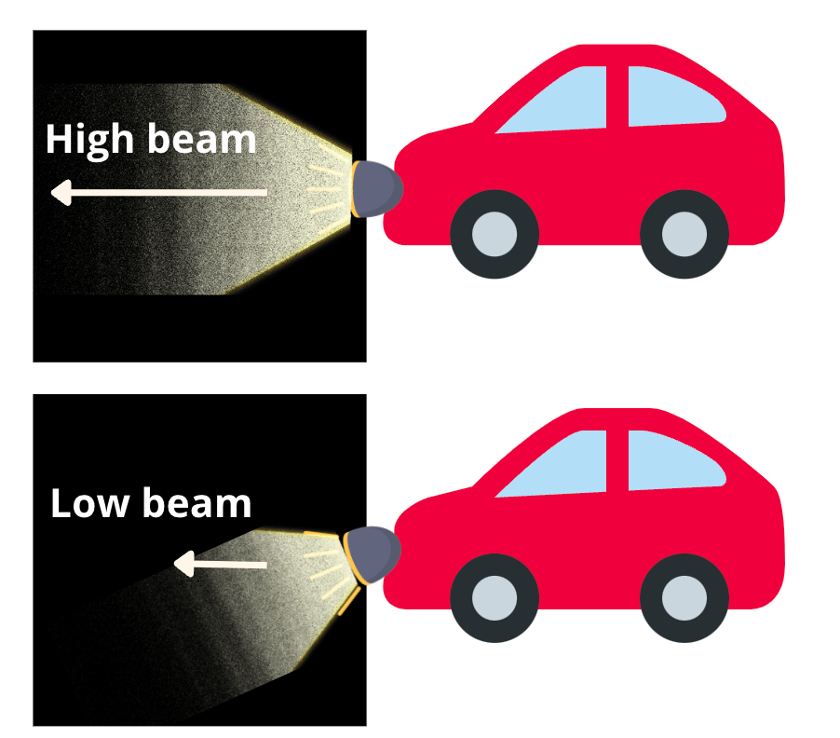 Brightest H7 Light Bulbs
Here are the brightest H7 light bulbs.
OSRAM Night Breaker Laser H7 Car Halogen Headlight Bulbs
1500 lumens
2300k color temperature
55 wattage per bulb
Runs for around 300 hours
Excellent beam projection and coverage
The downside is color is closer to yellow than white
Hikari UltraFocus H7 LED Bulbs
ZES chips for a more concentrated beam of light with a superb visibility
32 wattage per bulb
Higher cost due to ZES chips.
If you want to fit LED light bulbs in halogen housing consider the ZES chips variant of Hikari LED bulbs
If your car has a projector headlight housing, you can buy this cheaper variant of the Hikari H7 LED bulb
6000K temperature of white color
12000 lumens
Some Tips While Replacing H7 Halogen Bulb
Do not touch the bulb with bare fingers.
The oil on the hand causes the H7 bulb to heat up.
If you have touched the bulb, clean it well with isopropyl alcohol.
Can H7 light bulb fit H11?
H7 light bulbs cannot fit into H11 as they have completely different shapes and mounting types.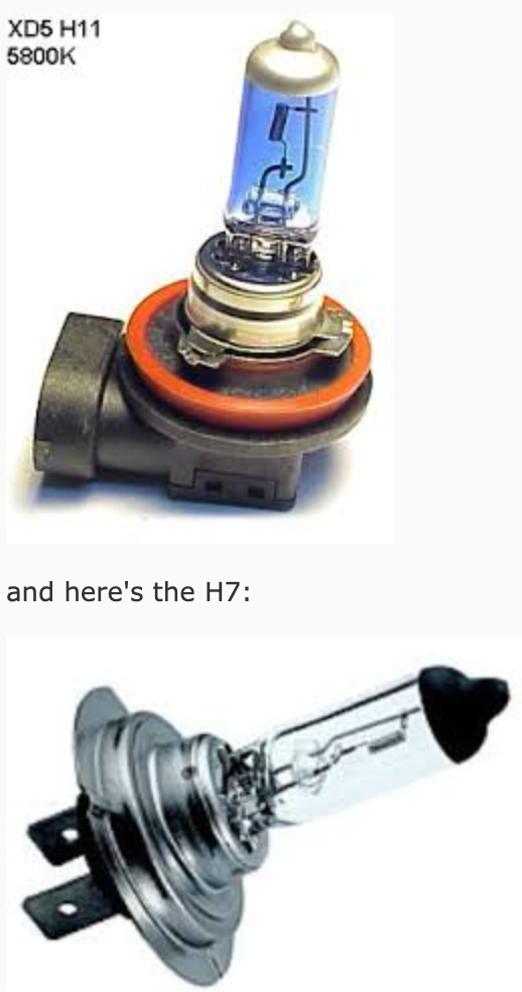 H7 Headlight Bulb FAQs
Can I replace H7 halogen with LED?
You can replace H7 halogen with LED. However, fitting LED bulbs in the halogen housing can cause glare. Hikari H7 LED bulb with ZES chips works pretty well in halogen housing. Moreover, you might also have to buy an adapter to fit the LED bulb in the connector of the halogen headlight housing.
What are the lumens of the H7 bulb?
H7 halogen bulbs have 1500 lumens while H7 LED bulbs have up to 12000 lumens.
What are the best H7 bulbs?
OSRAM Nightbreaker Laser is the best H7 halogen bulb and Hikari Prime ZES is the best H7 LED bulb.
Is H7 high or low beam?
H7 is used as a low beam light. Although it has a single filament like an H1 light bulb, which is a high beam light, the H7 light bulb cannot be fitted into the socket of the H1 light bulb due to the different bases.
Is H7 LED?
H7 can be both halogen and LED. People are now upgrading from halogen light bulbs to LED light bulbs as they are brighter, have a more white color, and have a much longer lifespan.
Are h4 and h7 bulbs interchangeable?
H4 and H7 bulbs are not interchangeable as they have different base plates. Moreover, the H4 bulb has two filaments while the H7 bulb has a single filament.
What does an H7 bulb look like?
H7 bulb has a single filament and two prongs projecting from the base plate.
Do H7 bulbs have polarity?
H7 bulbs do not have polarity i.e. H7 halogen bulbs do not have specific positive or negative terminals. In halogen bulbs, polarity does not matter as the current is going to flow through the filament one way or the other. The negative side of the is the metal case surrounding the bulb. The wire is the positive side. You just want to make sure that sure you have a positive and ground in the wire harness so that the bulb would light up.
How Much Was This Content Helpful?