How To Tell If Your Car Has Remote Start? [Full Guide]
Remote starters are convenient because they allow you to start your car without having to walk to it.  Do you love the convenience of being able to start your car from afar, without having to step outside into the cold (or heat)? If so, you may be wondering how to tell if your car has remote start. Read this guide till the end as I have covered several ways that can help you identify whether or not your car has a remote starter. 
Also Read: What does SE mean in a car
Here Is How To Tell If Your Car Has Remote Start
Check for your owner's manual for instructions related to the remote starter features.
Check the key fob of your vehicle and see if it has any special remote start button.
Check if there is an application for the remote starter of your vehicle if you can't find a button on the key fob.
Use your vehicle identification number (VIN) on websites like Carfax to list all important features your vehicle has. You can ask your local dealer to have a look at all features for you by telling them VIN.
Check if there is a sticker under the hood that shows that the vehicle is equipped with a remote start.
If your vehicle has an aftermarket remote start, it might have a separate key fob. Moreover, you will also see cheesy-looking wire splices under the dashboard near the ignition switch.
Now let's look at each method of finding a remote starter in your vehicle in the detail.
1. Check for Owner's Manual
Remote start is a feature that allows you to start your engine without using an ignition key. This is useful in cold climates where it may be difficult to step outside of your heating area and manually start the car. If you are not sure whether or not your vehicle has a remote starter, you can find out by looking in your owner's manual. The location of this information is typically listed in the index of the manual.
Following automotive companies include a remote start option in their vehicles:
Ford
Honda
Acura
Mercedes Benz
Lexus
Toyota
Chevy
GM
Check the index of the owner's manual to see if the remote start feature of your vehicle is listed there. For instance, I had the owner's manual of the 2021 Ford Escape. I checked its index and found the remote start feature.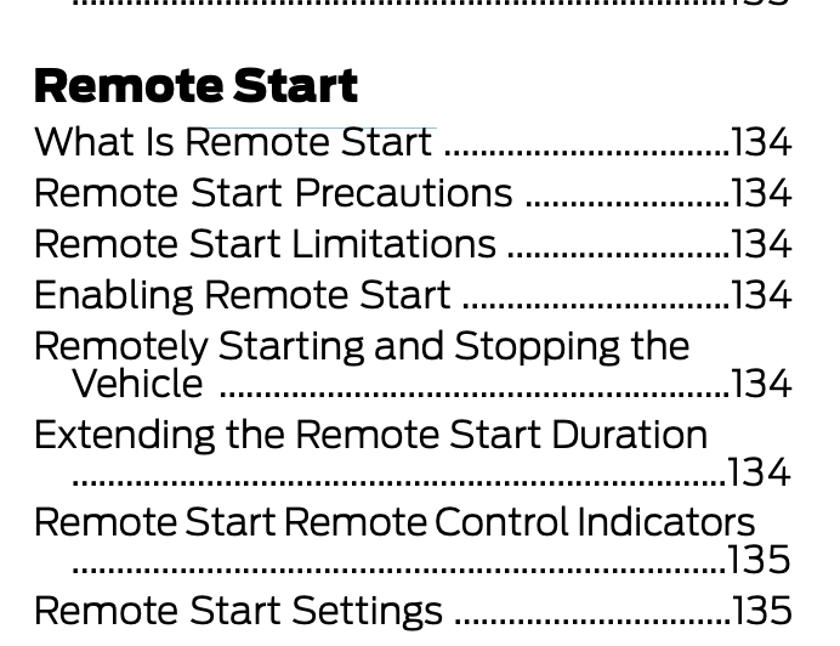 Similarly, my friend has a 2020 Chevy Malibu owner's manual. He asked him to check its index and find the remote start feature. In the picture below, you can see that it's mentioned.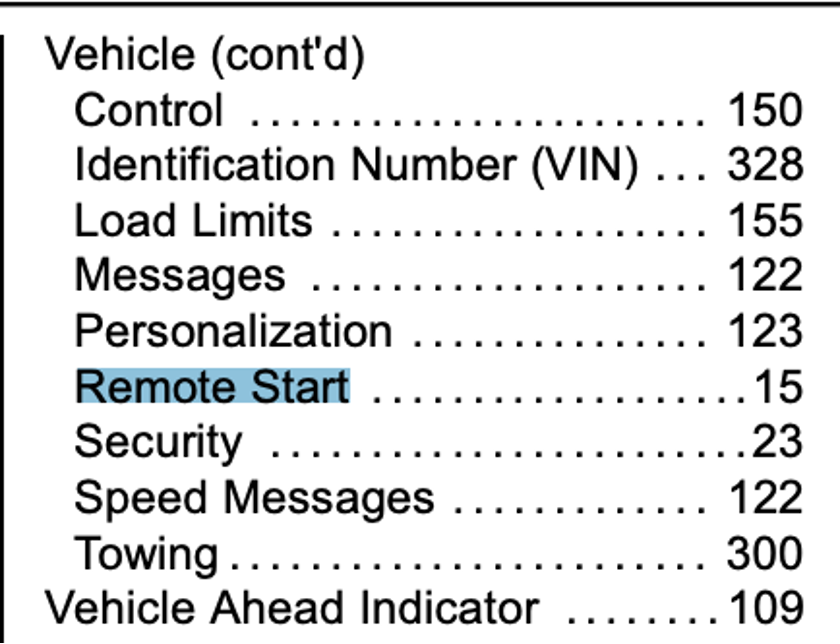 For Toyota, I tried to find out the remote start feature in the index, but couldn't find it. But don't worry. Using Key Fob, we can easily identify it as I have explained it in the next section.
Check the Key Fob Of Your Vehicle
You can check whether your vehicle has a remote start system or not by looking at the key fob. The key fob has a button for the remote starter.
On Chevys with a remote start feature, the key fob has a button showing an arrow rounded in a partial circle. You can remote start Chevy by pressing lock setting and then pressing the remote start/stop button for at least 4 seconds. Your engine will start.
On the key fob of Ford vehicles with remote start feature, you will see the same rounded arrow in a partial circle, but with a 2x.
To test remote start on Ford, press the lock button on the key fob. The lock button will lock your car before it starts your engine for safety and security purposes. Within 3 seconds, press the remote start button.
Within three seconds, press the same button again. If the remote start of Ford successfully takes place, the turn signal lamps will flash twice, and parking lamps will turn on when the vehicle is running. If the vehicle does not start, the horn will sound.
For Honda vehicles, it's a bit different. It does not have a conventional key fob like other vehicles. Honda vehicles have a keyless entry-integrated key with a keyless access mode. You will find the same button with a rounded arrow.
However, on some Honda vehicles with a remote start system, you will find a button showing the word 'Engine' on it. If the engine button on the key fob of Honda is not working, make sure to check that the remote start system is set to on by going to the keyless access setup.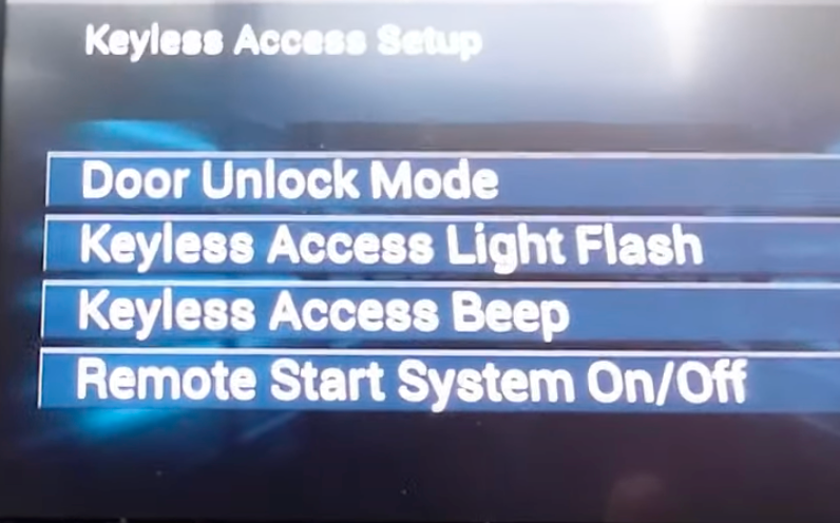 If you want to know about Toyota remote start feature, the Toyota cars up to the 2021 model can be remotely started with a fob. In 2021 Toyota deactivated the remote start button on the key fob and introduced the Remote Connect App to remote start the vehicle.
Toyota vehicles from 2018 to 2020, are able to use the remote feature with a key fob for a 3-year trial period. However, if you have pre-2018 Toyota vehicles, the key fob remote start will be free. On the Key fob of Toyota, there isn't any remote start button like Chevys, Ford or Honda vehicles.
To remote start the Toyota Camry with a key fob, press the lock button normally the first two times but keep holding the lock button the third time for at least 3 seconds. In the below video, you can see how the guy is remote starting his Toyota Camry using a key fob.
Lexus vehicles also do not have any special button the key fob for remote start. You have to push the lock button in a quick, two-step sequence and then keep pressing the lock button for 4 seconds on a third step.
On vehicles equipped with automatic climate control, the remote engine starter can operate the air conditioner (defroster) or heating wire (rear defogger/heated door mirror) based on the cold temperature.
When a vehicle is remote started, the climate control system will begin to operate at the last operating mode and temperature you would have selected. So, whatever the temperature setting was within your vehicle when you left it, it will start running.
Also, note that the remote start from the key fob for any vehicle may work up to 60 m (197 ft) away from the vehicle.
In the following conditions, the remort start will not work when you press the engine start/stop button on the key fob:
The alarm horn is sounding
The hood is open
All the doors are not closed or locked.
The transmission is not in park (P)
The brake pedal is depressed
The ignition is on
The battery voltage is below the minimum operating voltage.
3. Check If There Is an Application for Remote Start
Automotive companies like Toyota introduced an application called Remote Connect to allow users to start the vehicle from an application installed on their smartphones or smart watches.
In this way, they don't have to use a key fob every time to remote start their vehicles. In this way, the access to the car functions through the remote application also increases the range compared to starting a car with a key fob.
Toyota vehicles that have a remote start feature linked with the application include Camry, Corolla, RAV4, Tacoma, 4Runner, and Highlander.
Similarly, Ford has also announced an application called 'FordPass' for a remote start of Ford vehicles. Some users have complained that they can't find the remote start button on the key fob, but have a remote start sticker under the hood. Such Ford vehicles can be started with the FordPass application on smartphones. You will have to change a module of the Ford to work with the remote start key fob. Users buy this LOCK-UNLOCK-LOCK remote start module to remote start the Ford vehicle with a key fob. You can buy it from here.
Similarly, Mercedes has introduced the 'Me App' to remote start the vehicle.
4. Check Remote Starter Feature Using VIN
On one of the Chevy forums, I found a vehicle identification number (VIN) of a Chevy Mailbu. I put VIN in this online tool and found that it had a remote starter system as you can see in the screenshot below:

Please note that this VIN lookup method only works if your vehicle has a factory remote start system. For aftermarket remote starters, it will not work.
5. Identify Aftermarket Remote Starter
The above methods can only verify the factory remote starter. To identify an aftermarket remote starter, you could see a sort of control module or a box underneath the driver dash or a passenger dash. If you're unable to do this, you can take your vehicle to a stereo and alarm shop to identify an aftermarket remote starter for you.
Some Precautions While Using Remote Starter
Never use the remote engine starter with the vehicle parked in a garage or other areas with limited ventilation as the exhaust gases will cause breathing issues due to improper ventilation.
Make sure to remove the vehicle cover before using the remote starting feature.
There should not be flammable material such as dead grass, paper, oil, grease, wood, etc. when you use a remote start feature of a vehicle as the exhaust emissions could cause fire hazards.
Do not use the remote engine starter from a distance where the vehicle cannot be seen. Children or small animals should not be near the vehicle.
How Much Was This Content Helpful?