TOPCOAT F11 REVIEW (Asked By Customers)
While going through social media, you might have seen the ads for TOPCOAT F11 Spray. Today I'm going to show you my Topcoat F11 Detailing Spray review. This is a very common product, especially in the automotive world that is meant to be used on cars, trucks, and SUVs, and I was pretty excited to try it out. But, can it really stand up to the F11 name? I'm going to be doing a full review of it, so you'll be able to see if this spray is worth the price or not.
What Is TOPCOAT F11?
TOPCOAT F11 is a detailing spray that is marketed as a polish/sealant all-in-one spray. TOPCOAT claims that F11 spray can replace car wax as it polishes in less than 1/3 the time it takes to wax.
According to the company, F11 spray could replace anything related to car body cleaning in your garage if applied in the right way. Also, according to the description, F11 spray is safe to apply on any surface like plastic and rubber as will not cause cracking, fading or damage, like other products. According to the users, F11 makes the black plastic pieces really look good.
One user says this:
"I like it, works great, used it on Caddy, 3 oak end tables, ceramic shower stall, and 2 counter tops. Good Stuff!"
The kit of TOPCOAT F11 spray comes with a microfiber cloth to apply to the car. The maximum amount of F11 spray necessary to coat a standard vehicle is not more than 3 oz. When applying F11 spray, make sure to divide the surface of the vehicle into sections. You can check my review on Nexgen spray. It has also the same method.
Is TOPCOAT F11 Spray Really Good?
TOPCOAT F11 is closer to a polymer-based spray wax, nothing special. TOPCOAT F11 does give a pretty good shine. It does keep water spots down as well as spots on all the black plastic. According to the users,
F11 spray is adequate for a quick detail as the material looks good immediately after applying it. However, you shouldn't expect any long-lasting results (or less swirls etc).
One user says this about F11 spray:
"I use it more as a quick clean, and not necessarily as a polish replacement. For a quick detail, I'm happy with it."
My friend has applied F11 spray on his Sea Doo. Here is what he says:
"F11 is great on my Sea Doo as I can do a quick detail and shine and it's safe on the graphics. It also does keep water spots down as well as spots on all the black plastic which was a major issue last year."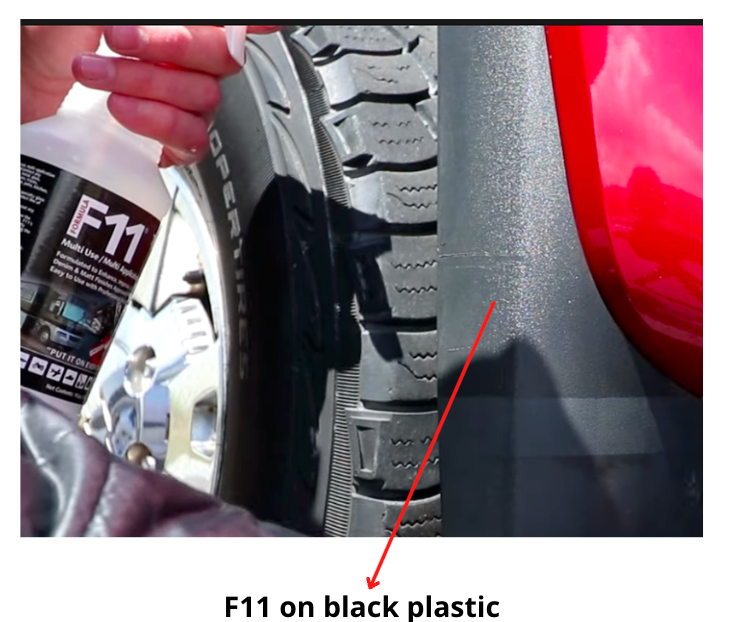 Here is what another user shares their experience with TOPCOAT F11 Spray:
"The shine quality of TOPCOAT F11 spray was similar to other products I use. However, one unique thing about F11 is that a week after I applied the third coat, I hand-washed the car a couple of days ago with only water, soft cellulose sponge and NO soap as recommended by TopCoat, and it looks really good. What's interesting is that it wasn't even that dirty, to begin with after a week of no washing, plus two days of rain and road spray."
One person has documented his journey of applying and testing F11 spray over a span of a few weeks in the form of video series.
Here are the videos:
Part 1:
Part 2:
Test on another car that has not been washed in 4 weeks. Only 3 coats of F11 spray were applied.
One person applied F11 spray on his boat which was in stained water for a few days.
This is what he said:
"My boat was in Big Lagoon, Pensacola, FL, for 2 days, no water stains at all. So far I am satisfied. I also used it on the hull sides and topside, seems to be holding up so far."
Here are some comments I came across on YouTube:
"I used it on my 03 sequoia and it works great. It looks like glass over the paint and beads water way better than wax. I have 3 coats on it now and it's never looked better."
One person has shared his car pictures after applying a coat of F11 spray. This is how it looks: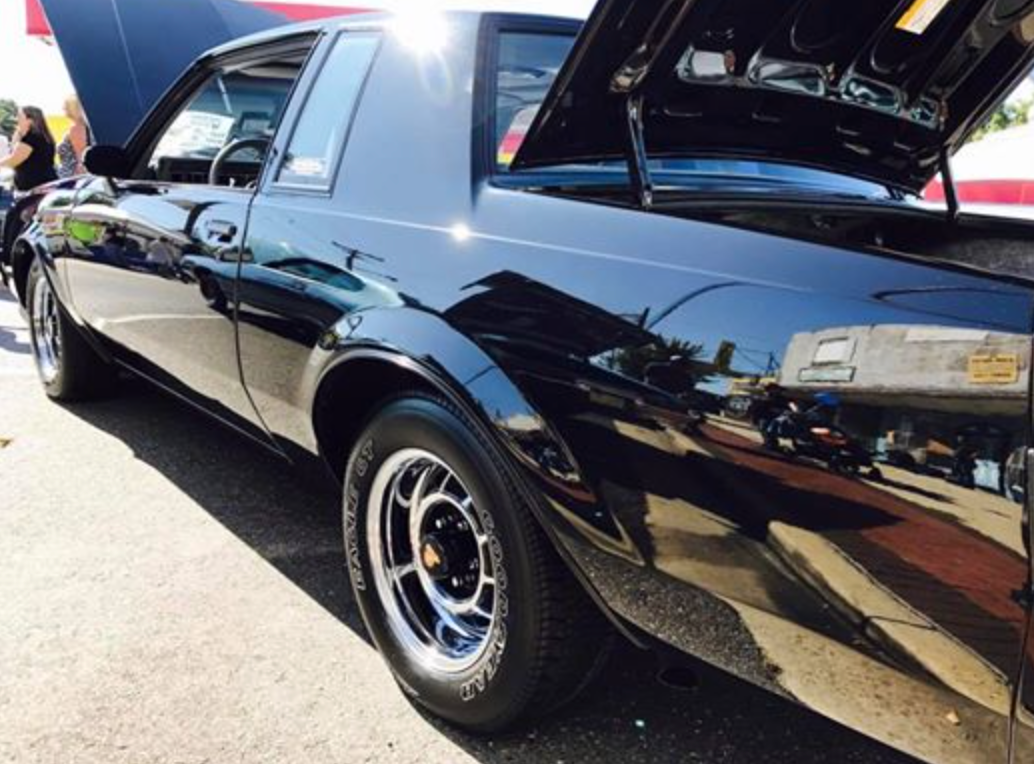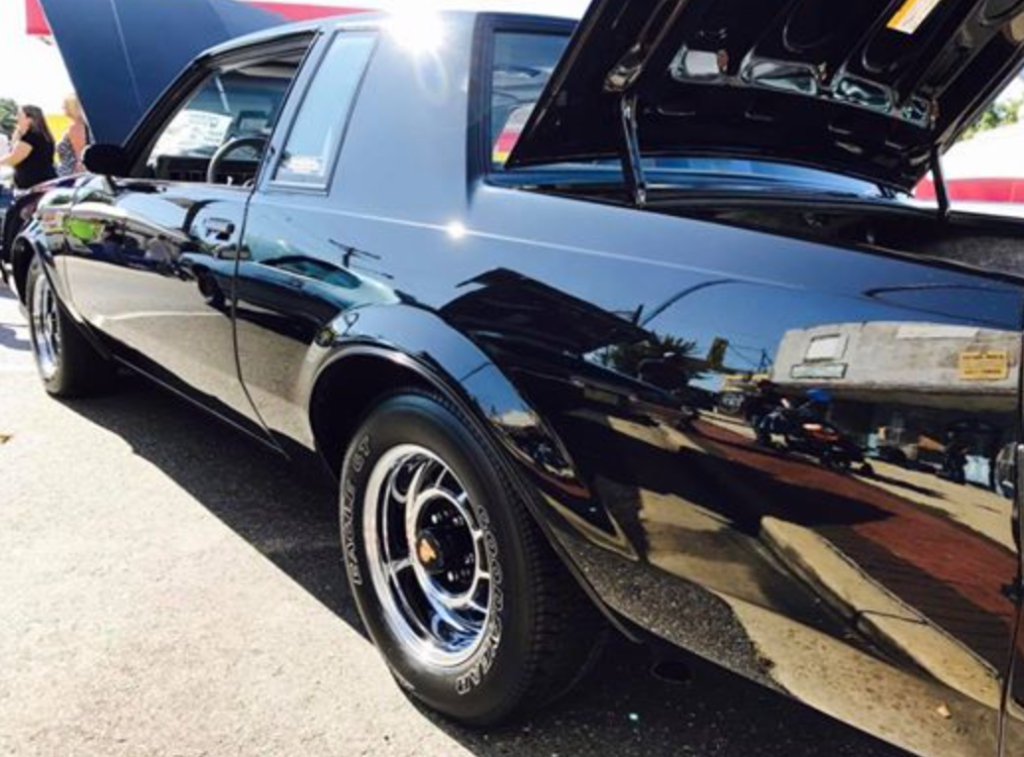 "I bought a 32 oz bottle and used it on my show car 69 Judge and our son 86 Grand national show car. I can definitely see the GN's black paint show and reflect better after using it."
Is F11 a ceramic coating?
F11 spray is not a ceramic coating. In fact, F11 cannot even be considered as 'polish'. It is a clear polymer-based solution that penetrates the surface of the car to protect and seal the surface. F11 spray is just a quick detailer spray that gives your car a clean look. It protects the finish of the car from the elements and helps maintain the look of the paintwork. It does not require a lot of maintenance.
Can You Use F11 On Tires?
Yes, you can apply F11 spray on your car tires and even on rims. Topcoat F11 spray is heat resistant and great for plastic, glass, metal, and the side of tires.
Here's what a user says on amazon about using Topcoat F11 on tires:
"I use it over my entire vehicle, rim and tire and all. Love seeing the water bead up after a good rain."
In the video below, the person is applying TOPCOAT F11 on his car wheels:
Bad Things About TOPCOAT F11 Spray
The first bad thing about Topcoat F11 spray is that it is advertised that it is a polish, which is a false statement. Polishing needs abrasives, you can't polish paint by spraying something on the paint and wiping it around, and then wiping it off. I did spray some on my finger/hands to see if it had any abrasive quality in it, it did not. left a weird feeling on my fingertips, reminding me of spraying WD40 on your hands and it got dry.
Next, when applying F11, you would have to use a pretty good amount of pressure when you're buffing it off. If you don't apply pressure, it's gonna leave streaks and leave some residue and it just does not look very good on your paint.
Next, the name of F11 is also misleading, "Coat". Coatings have been out for years now and they last a year or more depending on the coating. If the car body coating is correctly formulated, you don't have to reapply after a month with a true coating. Coatings don't wash off. Coatings don't fill paint imperfections. F11 is more like a glaze spray, something to that effect.
Lastly, the F11 spray is overpriced as the company is spending tons of money on making compelling ads to hit the product on social media. F11 has only a nice unique benefit of easy wash jobs if applied often. Also, it gives a very nice slick feel to the paint.
So, if you are very lazy about the maintenance of your car, you can go with that F11 spray.
How Long Does F11 TopCoat Last?
F11 Topcoat can last for more than 3 months if you don't wash a car. But whenever you do it with soap, the slickness and shine start diminishing. I found below video helpful on the durability test of F11 spray.
Cheaper Alternative to TOPCOAT F11
Turtle Wax ICE is a great cheaper alternative to the TOPCOAT F11. I applied Turtle Wax Ice on my White Buick and got to say I couldn't see much difference for the huge price difference. It goes on & off just as easy.
How Much Was This Content Helpful?